New Hyundai Accent for Sale in Minot, ND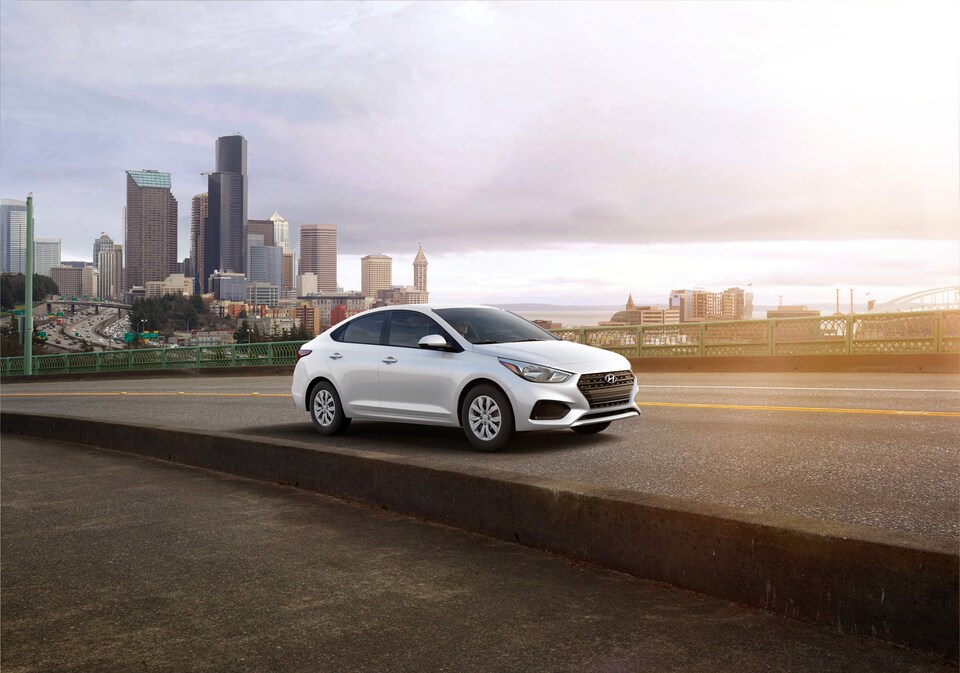 Subcompact Action in a Hyundai Accent
Small sedans are everywhere in society today, and a number of automakers have produced their own compact sedan. The Hyundai Accent is the epitome of a small sedan, but it hosts many of the same features as mid-size sedans. This vehicle would be a great addition for your household, or it could be a great stand-alone vehicle for first-time buyers. Of course, a number of tech advancements are built-in for better driver engagement and entertainment purposes. Don Bessette Hyundai near Minot carries several trims, including the SE, SEL, and Limited.
Interior Presence
The interior of the Hyundai Accent has a grown-up interior despite its small size. Buyers around the Surrey, ND area, will be riding in total comfort thanks to the cabin's cloth material. Heat function has been added to the front seats in the Limited trim, but all trims will offer rear seatbacks that can fold down. A fair amount of legroom for the rear seat is also available. This frill-free interior has excellent ergonomics, especially for front-seat passengers. The total amount of legroom is listed at 90.2 cubic feet, and you'll also get 13.7 cubic feet of trunk space. Bring the outdoors to an indoor setting via a tilt-and-slide sunroof. Why not take advantage of the car's hands-free trunk?
Technology Features
Located in the center dash is an intuitive multimedia display that's about 7.0 inches in size. A number of applications can be found here for audiobooks and podcasts. This touch-sensitive screen is very responsive and fast. You can even answer phone calls by simply touching the phone icon. Some physical controls will operate this screen.
If you want to connect external devices, the Hyundai Accent offers auxiliary ports. In addition to that, buyers around Towner, ND, will even have access to a USB port.
Smartphone integration is another addition. iPhone users can take advantage of Apple CarPlay and its many customizable features from maps to music. Of course, Android users will have access to Android Auto features. You can even stream music from your smartphone to the car's audio system. No more reaching for the keys as buyers will have access to Push Button Start.
The Hyundai Accent is well worth its affordable price, and buyers will also have access to Bluetooth connectivity. Bluetooth offers a hands-free function while driving to keep you focused on the road. Over 100 digital channels are present thanks to SiriusXM radio. This includes news, sports, talk, and music channels.
Performance
The Hyundai Accent will provide great performance on the highway that's manageable. Under the hood sits a 1.6-liter engine that churns out 120 horsepower and 113 pound-feet of torque. This four-cylinder engine is snappy, but it delivers a smooth and steady stream of power. All trims come equipped with front-wheel drive.
This sedan uses Smartstream technology within its IVT transmission. You can even feel what the car is doing thanks to motor-driven power steering. All of this manageable power transfers through 15- and 17-inch alloy wheels. Maneuverability is excellent thanks to the car's small stature.
Safety
Safety and security are a priority with the new Accent. The NHTSA has given this automobile a four-star safety rating. Strategically placed airbags will provide all-around protection for each passenger. Driver-assistance features are also standard to help prevent accidents.
Thanks to Electronic Stability Control and Traction Control, you'll be able to drive with peace of mind during inclement weather. Safety features such as Forward Collision-Avoidance Assist and Automatic Emergency Braking are standard.
There you have it. All sedan enthusiasts are welcome to stop by our showroom for a test drive through Velva.